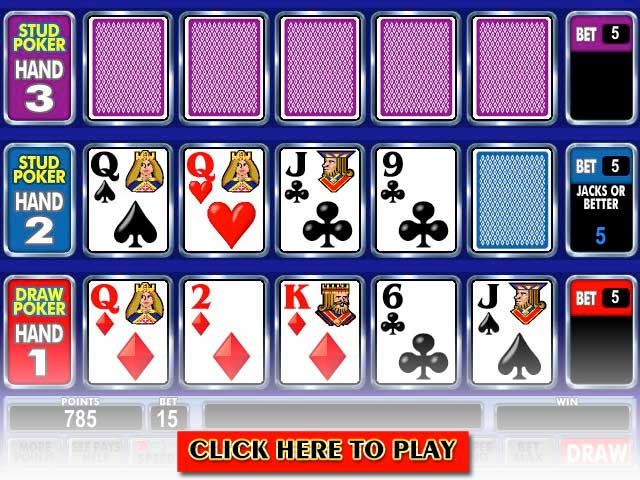 This game requires the
Shockwave Plugin
. If you are having trouble downloading the game, please visit
Adobe Shockwave Player Help
for answers to common problems. Keep in mind that our games may take some time to download depending on your internet connection.
Ace Invaders Bonus Poker
A New Way to Play Multiple Hand Video Poker!
Play the bottom hand like regular video poker: deal five cards, select the cards you want to hold, and then draw new cards. But then, two stud hand above are also dealt. Not only do you get paid on all three hands, but the aces can fall from higher hands down to the lower hands, "invading" the lower hands with better pays!
Ace Invaders Bonus Poker is a three-hand poker game, where the first (and bottom) hand is a draw poker hand, and the top two hands are stud poker.
The first hand is initially played out like standard video poker, where the game deals five cards, then the player draws new cards that aren't held. After the draw, the two stud hands above are dealt.
Now the excitement begins! Any aces that are dealt to the top two hands will copy and fall into the hand directly below if the ace can increase the pay of the hand below! Aces can continue to fall to the bottom draw hand, creating high-hitting 4 Aces hands, and a possible 5 Aces jackpot hand!
Ace Invaders Bonus Poker Internet Resources
Video Poker Internet Resources