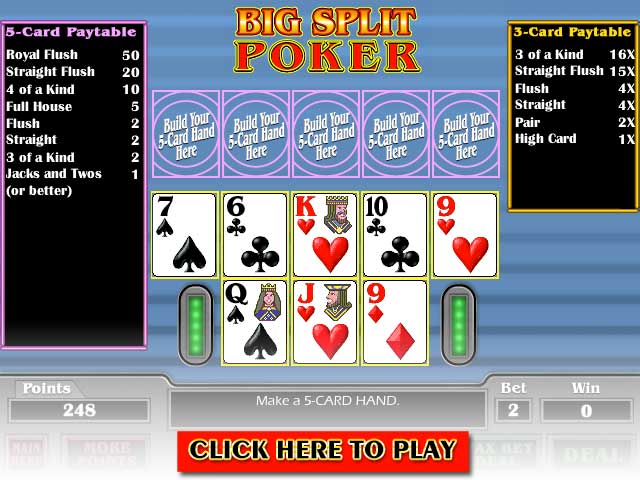 This game requires the
Shockwave Plugin
. If you are having trouble downloading the game, please visit
Adobe Shockwave Player Help
for answers to common problems. Keep in mind that our games may take some time to download depending on your internet connection.
Big Split Poker
A New Way to Play Video Poker!
Take 8 cards, break them into a 5-card poker hand and a 3-card poker hand. The 3-card poker hand multiplies your 5-card poker hand win. What could be more fun?
Read the Bob Dancer article that discusses Big Split Poker in detail. The article reveals hints on strategies and important information regarding paytables and expected returns.
Big Split Poker brings you all of the action of the famous Pai-Gow Poker table game in this exciting new video poker game. Start with an 8-card deal and arrange the cards into hands of 5-cards and 3-cards. Paytables for each hand multiply to calculate your total winnings.
But just don't cash out with any old winning hand. Some hands can be built into more than one winning combination. So use your poker skill to switch your cards around, and watch the win change right before your eyes. When you find the highest pay combination, submit your hand and collect your winnings.
Big Split Poker is a new kind of video poker skill game. For the first time, there are no strategy tables to memorize at home or strategy cards to squint at in the casino. You can play perfectly for maximum pay off with just the cards in front of you and your sharp poker skills. Simply deal the cards and use your skill to find the highest possible combination.
Big Split Poker Internet Resources
Video Poker Internet Resources