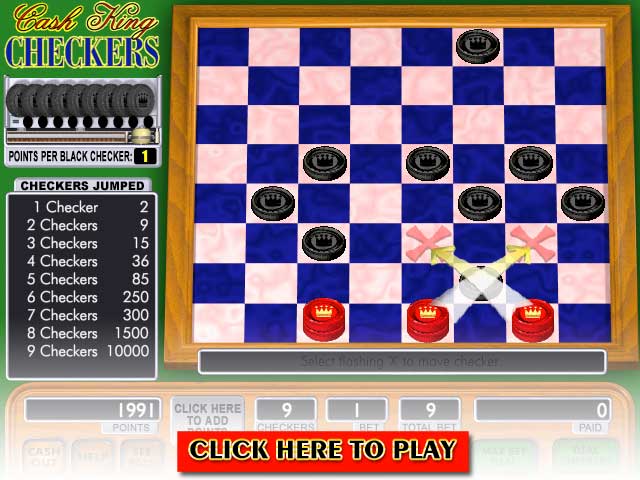 This game requires the
Shockwave Plugin
. If you are having trouble downloading the game, please visit
Adobe Shockwave Player Help
for answers to common problems. Keep in mind that our games may take some time to download depending on your internet connection.
Cash King Checkers
A New Way to Play Checkers!
You play the red kings. Jump over the black checkers. The more black checkers you capture, the more you win! What could be more fun than that?
Read the Bob Dancer article that discusses Cash King Checkers in detail. The article reveals hints on strategies and important information regarding paytables and expected returns.
Cash King Checkers is a new casino game where you a quick board of checkers. you control the three red king pieces, while the game randomly places one to nine (you decide) black checkers on the board. Using your kings, you proceed to jump as many black checkers as possible. The more checkers jumped, the more you win!
Also, watch out for the gold checker! If you jump over it, you'll then be able to play a bonus round for even more winnings!
Cash King Checkers Internet Resources