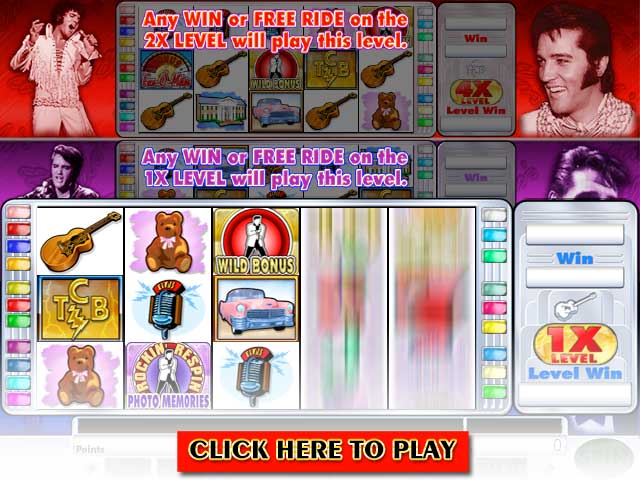 This game requires the
Shockwave Plugin
. If you are having trouble downloading the game, please visit
Adobe Shockwave Player Help
for answers to common problems. Keep in mind that our games may take some time to download depending on your internet connection.
Elvis Multi-Strike Video Slots
The King of Rock and Roll is now the King of the Casino!
Introducing the very first Multi-Strike Video Slot. We've taken the award-winning, multi-level multiplying action of Multi-Strike Poker and have put it in a video slot format. Then we added three second-screen bonus rounds, a respin feature, a mechanical top box, and a very tidy sum of cash for a top award.
Oh yeah, Elvis Presley is in the game, too. A lot.
We've applied the award-winning Multi-Strike format to a video slot, and have come up with an exciting new game featuring Elvis himself. Betting multiple lines not only increases your hit rate on a machine, but you are also increasing the number of machines you play.
Winning on the 1X level machine allows you to play the middle machine, with all pays doubled! And then if you get a winning spin there, you get a spin on the top machine, where all payouts are QUADRUPLED! Plus, throw in a bunch of second screen bonuses and a re-spin feature, and you've got a game that'll shake you up.
Elvis Multi-Strike Internet Resources