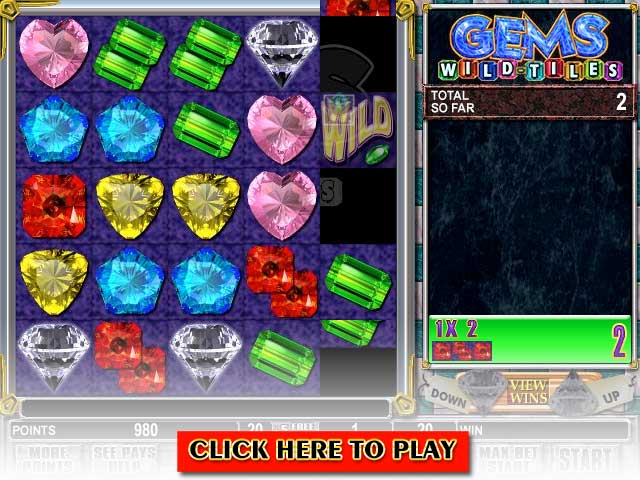 This game requires the
Shockwave Plugin
. If you are having trouble downloading the game, please visit
Adobe Shockwave Player Help
for answers to common problems. Keep in mind that our games may take some time to download depending on your internet connection.
Gems Wild-Tiles
Gems, Jewels, and Diamonds! All in one hypnotizing action-packed game! What more could you want?
Press START, and the board fills with gems. Any three or more in a straight line horizontally or vertically pays, and removes those gems. Then gems fall to fill the holes left by those that were removed, and you can win again! And again! Each time the board is refreshed, the game multiplier goes up, creating pays that can reach dizzying heights. And if a full column is removed, you get a bonus payout. Check out the most dazzling game to ever hit the casino floor.
Gems Wild-Tiles is a new type of slot machine. You don't buy paylines, instead you buy tiles that are dropped into a board and any 3, 4, or 5 adjacent matching symbols will win. Then those symbols are removed, and the tiles drop again, filling in the spaces...
At which point, you can win again! You can repeatedly win as long as tiles are matching and dropping. And every time they drop, a multiplier increases their pays, so if you can rack up some really long chains, you can rack up some really large change!
Gems Wild Tiles Internet Resources