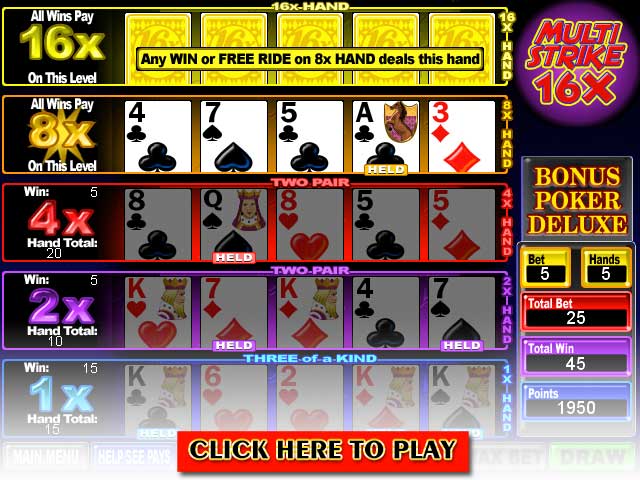 This game requires the
Shockwave Plugin
. If you are having trouble downloading the game, please visit
Adobe Shockwave Player Help
for answers to common problems. Keep in mind that our games may take some time to download depending on your internet connection.
Multi-Strike Poker Ultra Deluxe
Looking for a new way to play Multi-Strike Poker?
Multi-Strike Poker Ultra Deluxe takes the award-winning formula of climbing poker action and increases the thrills, payouts and fun! It's an entire package that includes the classic Multi-Strike Poker along with 4 variants and 2 other unique poker games to play when you're looking for something different.
Multi-Strike Double Down Stud adds the classic stud game into the Multi-Strike Poker mix. Doubling down on the top hand can win you a tidy 16X your pay.
If draw poker is still your thing, however, you can still get that elusive 16X by playing Multi-Strike 16X. This adds a fifth hand to the standard Multi-Strike Poker game.
But if multipliers of 16X aren't big enough for you, there's more to explore. Multi-Strike Super Times Pay Poker adds the familiar Super Times Pay twist to all of the hands for some really amplified scores. And Big Pick Multi-Strike lets you select your multiplier in a mini game on any winning hand on the top hand…up to 40X!!!
In addition, we've added two other Leading Edge Design favorites, Big Split Poker and Ace Invaders.
So, if you are looking for a change of pace, or big scoring variants on a classic, it's all here in Multi-Strike Poker Ultra Deluxe!
Articles From Around the Web
Multi-Strike Poker Internet Resources
Video Poker Internet Resources